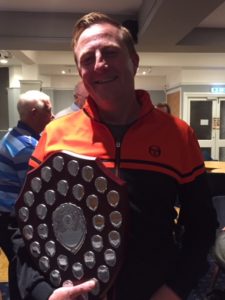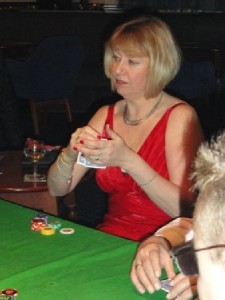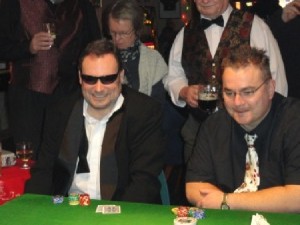 About Us

We are a friendly bunch of players who meet every other Thursday to play Texas Hold 'em Poker. Two tournaments are played with a £5 entry fee for each, both tournaments have points and cash prizes. There is no obligation to play in both tournaments you choose whether you want to play one or both. Points towards the league are granted for playing, being placed in the top 8, consecutive placings in the top 8 and the elusive Royal Flush! The points go towards your placing in the league and the final top 8 get to play in the grand finales one in summer and one in winter. At the grand finale the top 8 from the league are given chip stacks according to their position and get to play for cash prizes and a trophy. The losers as we affectionately call anyone who doesn't make the top 8 (and there's a lot of us) play a friendly side game in between watching the final and enjoying a drink and a buffet.

New players are always welcome, and we will do all possible to support beginners so don't be shy… give it a try. Registration is at 7.20 for a 7.30 sharp start.

For further info contact Andy Pearson or Becci Grogan.

Meeting Notes,

Ottershaw Social Club Poker League

Meeting Minutes

6th February2019

| | |
| --- | --- |
| Present: | Ray Ebsworth, Terry Fry, Jenny Gostage, John Gostage, Becky Grogan, Catherine Johnson, Adrian Meredith, Andy Pearson, Ben Rice, Rachael Rice, Richard (Tricky) Woodger |
| Next meeting: | February 2020 |

Agenda

Discussion Points

Announcement from committee

DiscussionPoints

Hand to hand play

When a tournament is down to the last two tables and in the 'bubble' position, hand to hand play was suggested as tables with a smaller number of players could knock out players quicker than table with a larger number of players.
Hand to hand play was rejected for practicality reasons, instead the tables will be re-balanced when the total number of players on a table is reduced to 4 (if practical).
The minimum number of players on a table is now increased to 4 (from 3) and a decision will be made if balancing the tables is required.
When re-balancing the tables the usual rules will apply, if the table is receiving one new player, they will take their place behind the dealer; two or more additional players will result in "re-jacking" to re-establish dealing order.

Table Leaders (TRIAL)

A Team Leader will be nominated for each table to take responsibility for any issues that may arise.
Andy Pearson will nominate a Team Leader on each table before the tournament begins. Andy's word is final.

Dealers

If a player is knocked out, and if they wish to, they can act as "the dealer" – on the proviso that the entire table agrees with it.
Players can still self-deal if that is their preference and so eschew the offer of a dealer.
Dealer takes on the role of Table Leader and is solely responsible for the play on that table. No input will be entertained from onlookers not currently involved in play. The dealer will specifically ask should they need help/advice.

Cards

You are responsible for your own hole cards.
Hole cards must always remain on the table behind the white line.
If cards are scooped up with other folded cards, they are deemed folded and cannot be retrieved from the discard pile.
Only decks of playing cards issued by the club will be used.

Chips

All chips must be displayed in full view of everyone with the highest values at the front.
Once chips go over the white line they are deemed in the pot – no withdrawing (even if you were unaware of a previous raise)
If you have a large volume of chips to be transferred during table moves, bowls will be provided, please do not put chips in your pockets.
Chipping up is essential to maintain speed of play. This will take place either in the break or by the dealer on the final table. No chipping up of players to be executed whilst a hand is in play.

Coaching

Coaching from off the table is not allowed but, as we are a friendly society, some non-specificadvice may be afforded to inexperienced players. Strictly no coaching on the final table, however.

See the last card

If a hand is over before all 5 cards are on the table, players cannot request to see the next cards that would have been dealt in the interests of speeding up play.

Blind times

Blind times are variable and controlled by Andy, dependent on the number of participants, utilising a formula, to ensure that we keep to a schedule and finish on time.

Showing your Hand

If your hand is shown (placed face up) before betting is completed, your hand is deemed folded.

Folding

If you are big blind and you attempt to fold, you canbe reminded you have already paid.
In all other situations, a fold is a fold and cannot be retracted – even if every other player has checked in turn thus far.

Timings

First game starts at 7.30 pm promptly, with registration at 7:20.
If you cannot make 7.30 you cannominate someone in advance to buy you in and you will be allocated a seat.Your blinds will be paid, and your cards will be folded until you arrive and are ready to play.
Once the tournament has started, there is not an option for late entry.

Announcement from Committee

The fortnightly Poker Tournament is now officially recognised as a League from within Ottershaw Social Club following great work by Becky.
We are now eligible to receive an annual budget.
2019 – 2020 value is £200
Items to be purchased with these new funds are new decks of poker playing cards (preferably with large print) & a blinds clock. Thanks to Andy for bringing his personal one each week for all the previous years.

The above "refinements" have been proposed to increase player enjoyment and are not specifically aimed at any participants past or present. This remains a "fun" league for club members whilst generally adhering to (albeit slightly relaxed) casino tournament rules.

Match report
Another well supported evening at the tables this week with 31 players in each game. Catherine extended her lead with a consecutive win taking her to 42 points already this season. Could she be on the way to a record breaker? Although we had 31 players, there were still some regulars missing so a full house would be a busy night. No reports of any controversy this week so the evening went well but, there is still a poker meeting scheduled for Wednesday  5th February where any ideas, rule amendments etc. can be discussed and decided if necessary in order to make the evenings run smoother, on time and fair. We do not wish to change the nature of the evenings with the emphasis being on light hearted competitive fun but some people do have concerns over a few issues over the distribution of players etc. Come and have your say!

Thanks to Ray and Mike for their early arrival to set the tables out – much appreciated. Thanks to all others that helped on the evening.

The find the joker raffle gave Linda Hickman to find the little fella but she ended up with a bottle of white wine instead. The Jackpot now stands at a respectable £76 with 49 cards remaining. It could be a massive jackpot by the time this one goes.

Well done to all our placed players this week. See you all either at the poker meeting or the next poker evening on  Thursday 7th February – check in by 7.20 for a prompt 7.30 start.