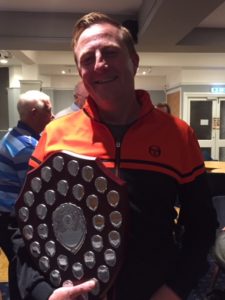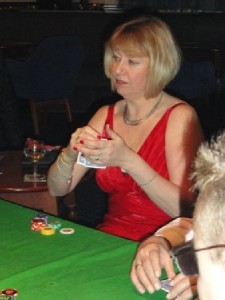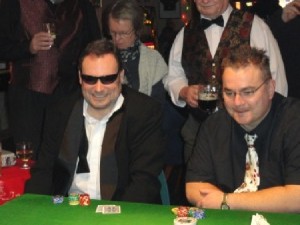 We are a friendly bunch of players who meet every other Thursday to play Texas Hold 'em Poker. Two tournaments are played with a £5 entry fee for each, both tournaments have points and cash prizes. There is no obligation to play in both tournaments you choose whether you want to play one or both. Points towards the league are granted for playing, being placed in the top 8, consecutive placings in the top 8 and the elusive Royal Flush! The points go towards your placing in the league and the final top 8 get to play in the grand finales one in summer and one in winter. At the grand finale the top 8 from the league are given chip stacks according to their position and get to play for cash prizes and a trophy. The losers as we affectionately call anyone who doesn't make the top 8 (and there's a lot of us) play a friendly side game in between watching the final and enjoying a drink and a buffet.

New players are always welcome, and we will do all possible to support beginners so don't be shy… give it a try. Registration is at 7.20 for a 7.30 sharp start.

For further info contact Andy Pearson or Becci Grogan.
Well, it was great to see poker returning to OSC on 12th July. It had been 6 weeks since the last league game and I am sure many of us missed it.
Unfortunately, England's dreams of winning the World Cup were dashed but, as OSC Poker players, we can all have our individual dreams of winning the Poker League and Grand Finale for Winter 2018.
Yes, we are only just into the schools breaking up for summer holidays, record breaking heatwave temperatures and yet, we are into the Winter League already. Christmas will be upon us before you know it!
And so, our opening matches of the season were won by Mike Nel and Ray Ebsworth, second were Richard Grace and Linda Hickman and John Tremlett and Lyn Patti third.
We have a slightly shorter Winter Season this year due to the first fixture being cancelled because of an England World Cup fixture. This means we will play 22 games this season culminating in the Grand Finale on Thursday 13th December.
Thank you all for the efforts you put into the very successful poker evenings, for all the jobs that may seem like little ones but are in fact vital to the running of the evenings. Thank you one and all.
Find the Joker stands at £505 for the Jackpot and there is 25 cards left.
See you all on Thursday 26th July for the next League Evening.